Supply and Demand
I. Goals
A. Descriptive features of Supply and Demand
Demand - Down and to the right.
Supply - Up and to the right.
B. Unregulated markets work best
1. Do we like all market outcomes?

2. Regulate the market, tilt incentives, or compensate those for whom the outcome is unacceptable?
3. Who bears the burden of a tax?
II. Definition of a Market - Place where price and quantity are determined

A. Buyers + Sellers
B. Product attributes
C. Geography
III. Demand curves slope down and to the right

A. Substitution effect

B. Income effect
IV. Supply curves slope up and to the right.
A. Principle of low hanging fruit
V. Equilibrium
Neither excess supply nor excess demand
A. Adjustment in the market place - Sell it or smell it
B. She who hesitates waits
C.
Price floor or support
D.
Price ceiling
E. Welfare properties of Equilibrium
1. No money left on the table
2. Economic surplus is maximized: Consumer surplus + producer surplus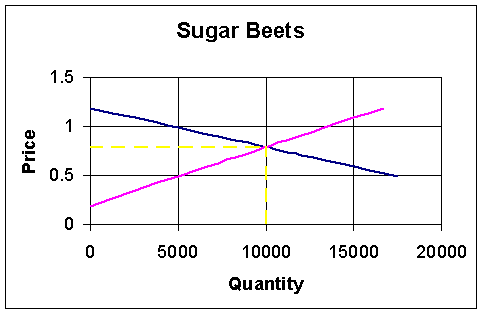 The equilibrium price is $.79 and the market clearing quantity is 10,000 lbs. At this equilibrium the consumer surplus = (1.19-.79)(.5)10,000 = 2000 and producer surplus = (.79-.19)(.5)10,000 = 3000. Total economic surplus = 2000+3000 = 5000.
If a price floor is impose at $1 then the quantity demanded is 5000. Consumer surplus will be (1.19-1)(.5)5,000=475. Producer surplus will be (.5-.19)(.5)5,000+(1-.5)5,000 = 775+2500 = 3275. So total economic surplus = 3750.
F. Determinants of Demand

| | |
| --- | --- |
| Income and wealth | Tastes |
| Prices of substitutes and complements | Expectations |
| Population | |
G. Determinants of Supply
| | |
| --- | --- |
| Technology | Expectations |
| Factor Prices | Weather |
| Number of Suppliers | |
H. Aggregating Demand Curves
Demand curves are added across all consumers in the quantity domain. If 'Red' Beech and Shirley Knot are the only consumers of lumber then we simply add their individual demands. Red's demand is P=30-2Q and Shirley's is P=30-3Q. Since these tell the price they are willing to pay, we will have to invert them to get Q=15-(P/2) and Q=10-(P/3). Adding them together we get Q=25-(5P/6).
I. Elasticity
Own price elasticity: Elastic, Unit elastic, Inelastic
Alternative Algebraic Representations
Cross price elasticity

Income elasticity and the Engel Curve