Sailing Directions
for
The Big Adventure: Chesapeake Bay to Nantucket
The following text is a merge of the sailing directions I wrote in the weeks before our departure and the log I kept on our trip. In addition to writing out the sailing directions, I plotted each leg of the trip on our charts. Thus, either the night before or the morning of each leg i could review each leg and know what i was likely to encounter. I could also brief each crew member on what to expect for the day.
Essential data on the s/v COLONEL BUCK:
Length: 30'9"
Beam: 10'9"
Mast Height: 47' above the waterline
Fresh Water: 40 gallons
Fuel: 18 gallons
Ice box: 4.5 cubic feet
Propane stove (2 burners) and oven.
There are 7 through hull fittings below the waterline. Do you know where they are?
There is a first aid kit in the head.
There are fire extinguishers in the forward cabin, in the galley, and in the cockpit locker
2 July 1991, Friday
This evening Christopher, Glenn Morton and I drove down to Great Oak. Between the trip yesterday and the trip today we have gotten just about everything down to the boat. We did however, manage to leave the iced tea jug on the kitchen counter. Glen Morton, our first crew member, was gracious enough to stop along the way and buy replacements.
3 July 1991, Saturday
Great Oak Landing to Chesapeake City
Relative to what is to come, this is an easy day; only 28 miles. There are no specific sailing directions. The current will be against us for morning and first part of the afternoon. However, we will have a fair tide carrying us from about the Bohemia River up to Chesapeake City.
With the prevailing winds we can plan on sailing a broad reach.
As with many legs on the trip, we found that one cannot count on prevailing or usual conditions. We didn't sail, but motored up to our destination. Christopher was awake last night with a sore throat. I have visions of having to call Maria and make arrangements to put him ashore. This would, of course, put the trip behind a day or two while we tend to his illness.
4 July 1993, Sunday
Chesapeake City, Delaware to Cape May, New Jersey
This will be a long day, about 61 miles. Since we will be riding a fair tide most of the way I think we can average 6 knots made good. Allowing a margin for error, we will be under way for about 12 hours.
Tide Table

Add one hour to times in table for daylight savings.

Location

High

Low

Distance from Chesapeake City

Chesapeake City

1043

2302

0443

1643

Reedy Point

1123

2342

0552

1752

12

Cohansey River

0953

2212

0423

1623

29

Maurice River

0930

2148

0347

1536

43

Cape May Ferry Terminal

0833

2051

0234

1424

61
At Chesapeake City the current starts to flow east at 0523. The maximum flow occurs at 0833 and flows at a rate of 2.3 knots. The current turns west at 1205.
At Reedy Point the ebb tide starts to flow in a southerly direction, down Delaware Bay, at 1356. The maximum ebb is 2.3 knots at approximately 1656 and will continue for three more hours.
The flood tide starts at the Delaware Bay entrance at 1700, with maximum flood tide at 2005.
If we depart Chesapeake City between 0900 and 0930 we will have a favorable tide to Reedy point. Given the speed of our boat and the favorable current we will make Reedy point in about 2.5 hours. Although this puts us at Reedy Point quite a bit ahead of the ebb tide down Delaware Bay, it will put us in a position to get a fair tide most of the way down to Cape May.
Once in the Delaware River we will follow the shipping channel down to the Nun buoy R12, Flashing Red 4 seconds, Bell. At that point we turn to a course of 97o magnetic.
If the winds are from the prevailing direction then we will be sailing on a close reach.
In the canal we should favor the left side of the channel. There is a swing bridge for the railroad. We should pass to the left of the 'island in the middle. On the right side there are (were) overhead cables that are too low for us.
Pending further developments, we will plan to anchor in either Cape May Harbor or Sunset Lake. Sunset lake is about three miles beyond the tank at Cape May Harbor shown on the chart.
Today we went through two canals. The C&D Canal joins the Chesapeake and the Delaware River. It is a major shipping channel. Although we didn't have to share it with any sea going freighters, it is often used by ships going to and leaving from Baltimore.
Just out of the C&D Canal the knot log (speedometer) quit. This makes navigation a little more challenging since one relies on elapsed time and speed to determing distance travelled.
The Cape May Canal is rather modest. It is only for pleasure boats and serves to cut off thirty or so miles from the trip around southern N.J.
We timed the tidal current correctly through the C&D, making about 7 knots for the trip. Mid-morning we tried sailing for about two hours. There was so little breeze that we couldn't even fill the 1.5 oz spinnaker. We motored most of the day in oppressively humid weather. The crab pot floats have quite a different character from the floats we see in the Bay. There is a main float with a second small float tailing along the surface of the water. At the end of the day we sailed for about 1.5 hours. We anchored in Cape May Harbor off the Corinthian Yacht Club. After a very long day we really didn't want to pump up the inflatable, etc., etc. On the other hand, we didn't feel like cooking. Glen treated us to a swell dinner at the Lobster Pot in Cape May.
5 July 1993, Monday
Cape May to Sandy Hook, New Jersey
Depart Cape May mid morning. The trip is 130 miles. If we average 5 knots under sail then it will take us about 26 hours. We should arrive at midday on July 6. Because we will be under way the whole time we will have to work out a watch keeping system.
The following are the rhumb line courses and distances. The courses are magnetic. The distances are nautical miles. Most of the time we will be only 1.5 miles offshore. Controlling depths will seldom be more than 60 feet.
R "12CM" at Cape May Inlet (38 55.8N 74 51.4W)
63o for 5.1 miles to R "8" may now be RW "H" (38 59.0N 74 46.2W) Hereford Inlet
40o for 9.2 miles to R "4A" (39 07.1N 74 40.7W) Townsends Inlet
51o for 12.9 miles to BW "GE" (39 17.0N 74 30.2W) Great Egg Harbor Inlet
63o for 6.6 miles to G "1" (39 21.0N 74 23.7W) Absecon Inlet
53o for 7.8 miles to BW "LE" (39 26.7N 74 17.1W) Little Egg / Brigantine Inlets
31o for 4.2 miles to R "2BH" ( 39 30.7N 74 15.2W) Beach Haven Inlet
45o for 16.7 miles to RW (39 44.9N 74 03.6W) Barnegat Inlet
18o for 20.9 miles to R "2" (40 05.5N 74 00.8W)
18o for 5.7 miles to RW "SI" (40 11.2N 74 00.1W) Shark River Inlet
33o for 10 miles to G "1" (40 20.5N 73 55.6W)
8o for 6.7 miles to G "1", R "2" (40 27.2N 73 56.3W) this is the entrance to the channel which will take us up around Sandy Hook
We will anchor out in Horseshoe Cove behind Sandy Hook. This is protected from all but a northwest wind.
This morning, just out of Cape May Christopher lost his glasses over board. He had taken off his glasses and wrapped himself in a sheet to keep the sun off. While thrashing about the glasses went in the drink. We used the cellular phone to call Maria and request that she Fed Ex a new pair to our first stop on Long Island.
The wind is out of the north, contrary to expected. This means that the trip north is a beat, moving us off shore all the time.
At 0200 we gave up the sails and went to the engine. There just wasn't enough wind to keep the sails filled. We have overtaken and passed EDNA from Canada, sailed by a single hander.
When the moon isn't hidden behind the clouds there is enough moonlight to cast distinct shadows in the cockpit.
6 July 1993, Tuesday
Arrive here in Sandy Hook in the middle of the morning from Cape May. Anchored in Horseshoe Cove at Sandy Hook. We will plan to meet the R J Bucks at the ranger station at 1400 hours. At this time we can decide when R J wants to come on board. This will give us time to get settled and find out about the park. Looking at the poor maps provided by the National Park Service, it looks like a 1.5 mile walk to the ranger station from where we can beach the dinghy.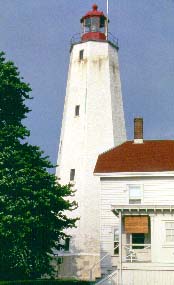 We arrived about when we expected, largely because we took down the sails and motored the last 6-7 hours. On arrival at Sandy Hook we bounced across a sand bar because I didn't know the meaning of a white buoy with red diamond. We were lucky to have crossed it at high tide. Later in the day the swells were breaking across it.
A large part of the remainder of the day we read and slept. I went for a swim.
7 July 1993, Wednesday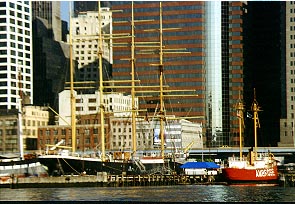 We begin our trip up into the Long Island Sound today. We need to depart Sandy Hook at about 1100. At this hour it is one hour before low water at The Battery, the southern end of Manhattan. The tidal current will be slack at Horseshoe Cove and just beginning to turn between the end of Sandy Hook and Rockaway Point. Over the next five hours we will have a fair tide to carry us through the East River up to and through Hell Gate. While today's trip is 36 nautical miles, current and boat speed will give us a speed over the ground of 6.5 knots. Our estimated travel time is five hours. We should arrive in Manhasset Harbor about 1600 hours. Embassy Pp. 66-67.
The proposal is that we go up as far as Manhasset. The trip from Sandy Hook to Manhasset is about 35 miles. Favorable currents will result in our velocity made good ranging between 5 and 8 knots.
From Horseshoe Cove sail 330o for 3.5 miles to the start of Chapel Hill Channel.
18o for 5 miles into the Ambrose Channel between G "15" and G "17"
(40 28.4N 74 02.2W)
Sail 9 miles through the Narrows and Upper Bay to Governors Island.
Take the Buttermilk Channel to the east of Governors Island. When we come out from behind Governors Island we will see The Battery (40 42.2N 74 01W) to port.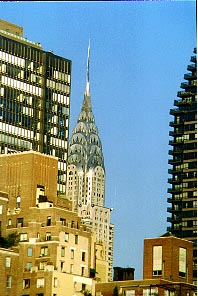 Head up the East River, under the Brooklyn and Manhattan Bridges. The next bridge will be the Williamsburg. The southern end of Roosevelt Island will be about five miles up from Governors Island.
We will go up the west side of Roosevelt Island, 4.7 miles, under the Queensboro Bridge (49 45.3N 73 57.5W). The island will be on our starboard side. Those of you who have read W.F. Buckley's sailing books will recall that one of his paid skippers took CYRANO up the east side of Roosevelt island and ran into a bridge.
Once past Roosevelt Island we will go a mile further and through the famous Hell Gate. (40 46.42N 73 56.18W)
2.4 miles further will take us to the 'Fl G 4s 33ft' north of North Brother Island.
Continue on another 3 miles under the Bronx Whitestone Bridge. We will then go another 2 miles and look for the R "48" east of Throgs Neck (40 48.2N 73 47.4W). Then continue on the last five or six miles to Manhasset.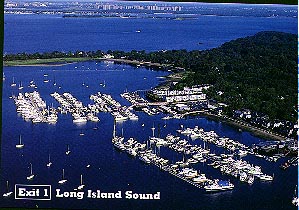 Since we will have been out from home port for four days at this point, we should plan on either a mooring or transient slip at Manhasset. This will allow us to shower properly, buy groceries, swab the decks and stretch our legs.
Embassy Pp. 388-395. Our first choice, Capri Marina and Yachting Center (516 883 7800) has showers (S), laundry (L), ice (I) and groceries (G), diesel (D).
Today marks the captain's second navigational error. In going over the sailing directions last night I discovered that I had read the tide tables incorrectly. The mistake necessitated a very early start. Naturally Grandma and Grandpa were not in their hotel room at a reasonable hour last night so I had to give them a wake up call. They did well to get up and rush over to Sandy Hook in time to get Grandpa on board and to catch the tide up through the East River. We put Glen on shore at Sandy Hook.
The fog was so thick this morning at departure that we really had to motor from Buoy to buoy. On the basis of engine RPMs I can guess boat speed, so navigation is possible. There was no wind today.
The trip through the East River was spectacular. We were able to see all the major sights. The World Trade Center, the Statue of Liberty, the Chrysler Building, the Empire State Building, all the bridges, etc.
At Hell Gate the surface current was flowing so fast that it confused the depth sounder. We were showing depths of about 4 feet where we knew it to be closer to seventy.
The Long Island Sound was like glass; unusual even for this time of year.
8 July 1993, Thursday
To Port Jefferson 30 miles. Today's trip will take about 6-7 hours. Tidal currents are not a great concern. If we depart from Manhasset by 0900 we will arrive in Port Jeff in mid to late afternoon. Served by the LIRR. Anchor off the beach just inside the harbor (first choice) or use the YC at the end of the harbor. The distance from our anchorage to the head of Port Jefferson Harbor is about 1.5 miles. The ferry goes from here to Bridgeport, Conn. Embassy Pp. 350-352.
Grandpa off, Grandma on. Today was another navigational error. When I changed the sailing directions from the earlier version I forgot to change correct the mileage to Port Jeff. The trip turned out to be over forty miles. We arrived about dusk.
We futzed around for a couple of hours trying to sail. There was no wind until the final hour or so of the trip. At that time there was a really strong offshore wind. Almost too much for us to be comfortable.
Today I used the Bruce anchor for the first time. Never before have I needed two tries to set the Danforth. It took us three or four tries to set the Bruce. From now on I'll stick with the Danforth. After we had anchored and had dinner the wind really piped up into a howl.
9 July 1993, Friday
To Saybrook 25 miles, five to six hours sailing. Our first choice, Harbor One (203-388-9208), is the nicest marina. An alternative is to try to get a guest mooring in North Cove. There is no place to anchor out here. Embassy Pp. 190-230.
Again because of an uncorrected change in the sailing directions, today was a longer trip than scheduled. The weather is still hot, hazy and humid. This week has brought record highs to the east coast. I suppose we are lucky to be on the water. The only better place would be in the water.
We were able to sail for a few hours at the end of the day under spinnaker. Thank goodness for the pool at the marina.
10 July 1993, Saturday
To Mystic 25 miles, five to six hours. We need to make reservations in order to stay in this popular port. An alternative is to tie up in Noank and use a taxi to get to Mystic Seaport.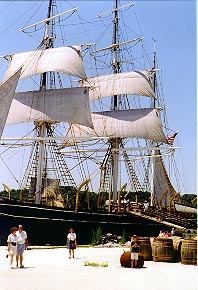 2 Nights
Arrive Saturday, 10 July 1993 - Depart Monday, 12 July 1993
Mystic Seaport Museum Marina
203 572 0711
$2.50/ft includes showers, laundry, etc. and admission to the seaport museum for all those on board (and our shoreside guests). Seaport monitors channels 68 and 9.
On Mystic River the railroad bridge opens on request, monitors channel 13
The highway bridge opens at 15 minutes past the hour between 7:15 AM and 7:15 PM. Weekdays they skip the 12:15 PM opening. Monitors channel 13
Embassy Pp. 250-265. S,L,I,G. The seaport does not have diesel fuel. There are some marinas on the Noank that do sell fuel.
Grandma off, Grandpa on. Nice spinnaker run the whole way. Finally a 'cool' day with a wind from the prevailing direction. On Fischer's Island Sound it seems to be open warfare between sail and power.
Here in Mystic we have been greeted by another descendant of Colonel Jonathan Buck. Captain Bob Higgins is descended from one of the other sons of the Colonel. Higgins is the captain of the last operating steam ferry in the US. The ferry is a part of the Mystic exhibit.
We had a great time here in Mystic. Higgins told us a tale of having to pirate his own boat back from Florida. We participated in a skit on the museum grounds. Cathy and Paul Leary brought down a picnic lunch.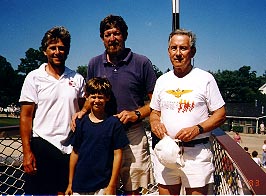 From left to right: Andrew Buck
Chris Buck
Bob Higgins
Bob Buck
On the deck of the ferry in Mystic.
The heat and humidity are abating.
11 July 1993, Sunday
Stay in Mystic. Reservations, see above.
12 July 1993, Monday
To Block Island 25 miles, about 5 hours. An early morning departure, not too much later than 0600, will get us a fair Ebb current through The Race to Block Island. Use a town mooring or anchor in Salt Pond.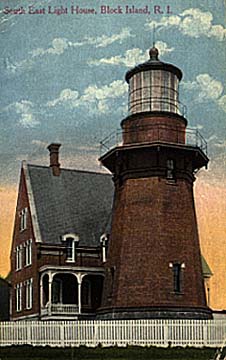 First charted by Adriaen Block in 1614. It was not until 1899 that Great Salt Pond was opened to the sea as a harbor of refuge.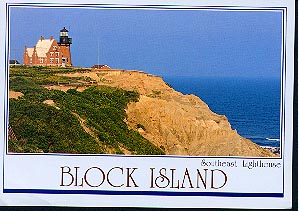 Embassy RI Pps. 58 - 63 or Embassy LI Pp. 280-287. There are three marinas in Great Salt Pond which sell diesel fuel.
Grandma on for the trip to Block Island. It took us about four hours for the trip. I got the navigational directions right for this one so we rode the current and had good wind for the sail. There were some pretty spectacular houses on Fischer's Island as we passed by. Upon arrival on Block Island we went into town. Bad restaurant lunch. Nice swim on the beach.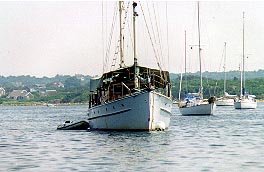 WHITHER, a huge sailboat, and PLATINUM, a motoryacht with 2 helicopters, are anchored in Great Salt Pond. We learned later that Platinum is Mick Jagger's yacht.
13 July 1993, Tuesday
To Newport 25 miles, about 5 hours. Start at 0730 to get the Ebb current and a fair tide to Newport. We will need reservations for this port of call. Use either an Oldport Marine Mooring or stay at New port YC. It is very popular and on everyone's itinerary.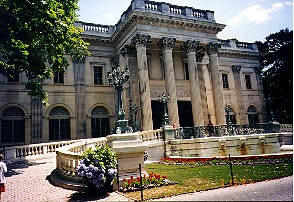 The Newport waterfront didn't become a popular destination until the Navy left in 1973. During the Gilded age the wealthy stopped in the harbor only long enough to get on and off their boats. Blood Alley is now known as Bannister's Wharf, a tourist attraction. Any of the Summer Cottages are a must see.
3 Nights
Arrive Tuesday, 13 July 1993 - Depart Friday, 16 July 1993
Newport Yachting Center
Reservation is for one night only, 13 July 1993.
800 653 3625
$2.00/foot.
We can anchor off the Ida Lewis YC or try one of the other marinas the other two nights.
Embassy Pps. 118 - 127. S, L, I, G. Diesel at the Newport Yachting Center.
With the current and favorable wind it took us about six hours. The distance must be a little greater than I estimated. We had a bit of everything today: Spinnaker, beam reach and close reach. While under spinnaker, off RI, the wind knocked us over enough to dip a large portion of the spinnaker in the water.
While in Newport we picked up Maria. The time was spent in walking and driving tours of the town. We spent a bit of time on the beach, always a favorite with Christopher.
14 July 1993, Wednesday
Stay in Newport.
15 July 1993, Thursday
Stay in Newport.
16 July 1993, Friday
To Cuttyhunk 25 miles, over 5 hours. The favorable current is too early for us to use to our advantage. To be practical we should leave Newport between 0600 and 0630 and plan to buck the current during part of the trip to Cuttyhunk. Fortunately it is only .5 to 1 knot, about what we are accustomed to in Chesapeake Bay.
There is ferry service from New Bedford.
The name Cuttyhunk is derived from the Mohegan. By 1850 the island had been stripped and remains brush and scrub. Forty people live here year round.
Embassy Pps. 209 - 213.
We sailed over under spinnaker, making very good time. The Pond is very small, very crowded and windy today. On our way in we counted six boats ahead of us and eight behind us. We dropped anchor just after 1200. The boats continued to arrive in a steady stream until about sundown. The last one in was a forty footer being singlehanded by an older woman. She dragged anchor almost immediatley. Some others in the anchorage went on board to assist her. In the middle of the night she dragged again and needed assistance. Fortunatley she didn't damage anyone's boat in the affair.
The Island is a small place with about forty year round residents. During the summer it is served by a small passenger ferry and a sea plane taxi. They even have a museum of island life here.
17 July 1993, Saturday
To Vineyard Haven 20 miles, 4 to 5 hours. We need to start at 0530 to 0600 in order to get to Vineyard Haven before the unfavorable tide begins to flow through Vineyard Sound. We should be in Vineyard Haven in time for a late lunch.
Get a town mooring. Since there are alternative anchorages, I don't think we need to make reservations. Our first choice will be to anchor in Lagoon Pond. Our second choice will be to anchor behind the breakwater in the harbor. At 1400 hours we can meet the Leary's at Vineyard Haven Marina (508 693 0720).
Vineyard Haven was a whaling and coastal trading center. The former activity was eliminated by the oil industry, the latter by the Cape Cod Canal. Lake Tashmoo offers freshwater swimming.
The ferry comes into Vineyard Haven and Oak Bluffs from points on the mainland.
Embassy Pps. 214 - 223. S, L, I, G.
On departure from Cuttyhunk Pond the wind was still howling from last night. We started out with the inflatable in tow. The wind and waves flipped it. We got it righted only to have it flip again. With a great deal of effort I finally got it on board and lashed down on the foredeck. While in Mystic I tripped while running and bruised my ribs. Today's effort required propping the bruised ribs on the pulpit rail for leverage. I am really sore now.
Once through Quick's Hole into Vineyard Sound the wind and water calmed. We made great time to Vineyard Haven and went through the draw bridge to anchor in Lagoon Pond. We met Grandma and Grandpa, who had come by car, and Cathy and Paul, who had taken the ferry. G&G have a room in Vineyard Haven.
18 July 1993, Sunday
Stay in Vineyard Haven or try one of the other harbors on the island. Edgartown is the more interesting. It is possible to anchor behind Chappaquidick Point. If we do this then we should depart Vineyard Haven about 0700.
Embassy Pps. 224 - 233. Diesel at Vineyard Haven Marina.
We elected to stay in Lagoon Pond. Today G&G rented a car so that we could go on a tour of the Island.
19 July 1993, Monday
To Nantucket from Vineyard Haven is 30 miles, 6 - 7 hours. Start at 0630 to ride the flood current to Nantucket. From Edgartown it is 25 miles and we can leave an hour later.
Fortunately we will be here mid-week. There is only one harbor. We will pick up a town mooring.
The beaches, the whaling museum and the village are the highpoints.
3 Nights
Arrive Monday, 19 July 1993 - Depart Thursday, 22 July 1993
Nantucket Moorings
508 228 4472
$40/night. Call on channel 68 before 5 PM, staff will direct us to a mooring. After the first night we will have a feel for the place and may switch to the anchorage.
Embassy Pps. 234 - 241. S, L, I, G. Nantucket Boat Basin has diesel.
Today we were to depart early. Unfortunately, the bridge out of Lagoon Pond does not go into operation until 0815. G&G have been standing on the dock since 0630 waiting for us to pick them up.
The sail over to Nantucket was a rousing close reach. We made very good time. Paul L was in the rack and asleep by 2230: A first!?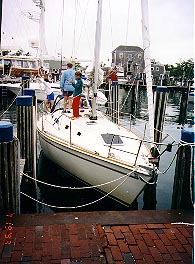 The Leary's gave us a grand tour of the island. Another car rental. Dr. George Pidot, a former Temple colleague now at SUNY Stonybrook, was moored two slips away from us!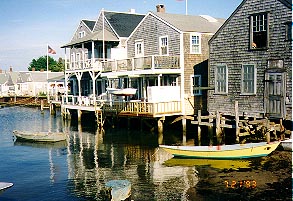 Buckboard Mkting and CAM Inc., G&G's companies, had annual meeting dinners here. Great meals, even if we did have to conduct a bit of business.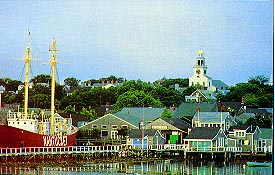 Paul Buck was able to join us for a night and a day. We had time to go out for a daysail off Nantucket for a few hours before he had to ruch off to get a plane.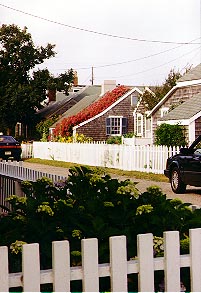 20 July, Tuesday
Stay in Nantucket. We will get a slip for tonight, courtesy of the Learys, at Nantucket Boat Basin (508 228 1333).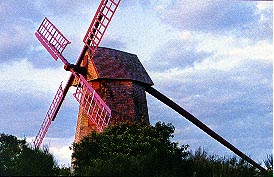 21 July, Wednesday
Stay in Nantucket.
22 July, Thursday
To Woods Hole 35 miles, 7 hours. Today we get to start late: 1130. This means we spend some time sailing in slack water, but catch a favorable flow into Vineyard Sound and up to Woods Hole.
THE neat place is Eel Pond, Woods Hole Marine 508 540 2402, monitors ch 16 on VHF. An alternate is Hadley's Harbor on the west side of the Hole or Great Harbor to the north.
This is a center of oceanographic research. One can visit the aquarium or Endeavor House.
Embassy Pps. 196 - 201.
An alternative destination might be Falmouth Harbor in order to make crew changes if necessay.
Embassy Pps. 242 - 245.
The wind is blowing hard from the wrong direction again today. The waves are two feet or more. We have both reefs in the main and most of the Genoa furled. Later in the afternoon we were still far enough off that we started the motor. We continued like that for three hours and finally ducked into Oak Bluffs on Martha's Vineyard rather try to make Wood's Hole. Later we learned that two of three kids drowned out on Nantucket sound when there Boston Whaler was capsized in the wind and waves.
Oak Bluffs turned out to be a great stop. The town is filled with little victorian style cottages painted in pastel hues. Paul L scored a lifetime high on a pinball machine.
23 July, Friday
To Sakonnet, about 28 miles, about 5 hours. Start at 0930 so we can get out of Woods Hole then get the favorable current to Sakonnet. Anchor off the beach on the west or stop in the marina on the east. Sakonnet Point Marine 401 635 4753.
Embassy Pps. 128 - 133.
Paul L got off early this morning so he could get back to the mainland for some auditions(?)
We made such good time down the length of the Elizabeth Islands that we decided to go straight through to Block Island and then take a rest day there. This turned out to take much longer than espected. The wind died and the current turned against us. I also laid in a course to go around the north end of the Island. Given the winds and current we probably should have gone around the south end.
24 July, Saturday
To Block Island 25 miles, 5 hours. Another early day. We have to depart Sakonnet River about 0700 in order to get the currents as favorable as is reasonable without having to sail at night.
Use a town mooring or anchor in Salt Pond.
Embassy Pps. 58 - 63. Champlin's: S, L, I, G, diesel.
This was a rest day for us, as we are already here. As part of our sightseeing we have taken Cathy ashore for her ferry. This morning there was a launch delivering fresh pastry to the anchored boats. We indulged.
25 July, Sunday
To Mattituck on the north shore of Long Island. On departing Salt Pond sail a course of 289o magnetic for 21.5 miles to G "1A" at Valiant Rock; this is The Race. From G "1A" it is another 14 miles on a course of about 265o until we are off Horton Point, then 14 more miles on a course of 240o. Use Matt-a-Mar Marina.
We must depart Block Island about 0900 in order to catch the current through The Race. It should take us just over three hours to get to The Race, we then have 2.5 hours to get as close to Horton Point as possible before the current turns against us. West of Horton Point we can stay close in shore and not get caught by the currents running out toward the Race. In any case we have to be sure that we are well west of Plum Gut before the Ebb tide starts to run at 1642.
Embassy Pp. 339-341. Matt-a-mar (516 298 4739, monitors channel 16 on the VHF) S, L, I, G, diesel.
More fresh pastry before our departure. This proved to be a long day, even with favorable winds and currents. We made it into Mattituck Inlet after all the marina personnel had left for the day. We ended up just tying to the end of a marina dock about half way down the inlet to Matt-a-mar. The showers were open so we partook.
Today the tack line of the spinnaker got away from me and ripped the running light off the bow pulpit. And that is not to mention the condition of my hands as the line burned through them.
26 July, Monday
To Saugatuck, 8 hours. From Mattituck we will sail a course of 290o for 38 miles. George Pidot's recommendation is to use Saugatuck YC. The cruising guide shows this as a private yacht club. An alternative is Cedar Point, 203 226 7411, monitors ch 78 on VHF.
Embassy Pp. 124-127. S, diesel.
We left early today so never had to pay for last night's slip and showers. The lack of wind militates a change in plan. We will go, under power, to Huntington Bay on Long Island instead. There was finally a bit of wind at the very end of the day so we sailed a beat down the Bay. Once anchored it got chilly and breezy. We battened down for a cozy evening after Christopher and I were able to pull the runnning light wires through the pulpit and make a repair.
27 July, Tuesday
To City Island 27 miles, 6 hours. An alternative destination which gives access to the LIRR is Manhasset Bay. We will stay at either Minneford's City Island Marineland (718 885 2000) or South Minneford Yacht Club (718 885 3113) for the night. This will give us the chance to get showers, fuel and water before heading home.
It turned out there was no fuel on City Island. We had to make a 6 mile round trip across the Sound to Manhasset for diesel fuel. This was annoying after a day of largely motoring, although there was enough wind to go to Manhasset and back under sail.
Maria got off the boat and Eric and Todd Andersen came on board.
28 July, Wednesday
City Island, New York to Cape May: Depart City Island at 0600 in order to catch the favorable tidal flow all the way through Hell Gate and New York Harbor. We will arrive at about midday in Cape May on 29 July.
Naturally the wind is from the wrong direction again. It seems that every time we needed a prevailing wind it would blow perversely. When we needed a break it blew from the prevailing direction or not at all.
With the wind on the nose we are tacking down the Jersey Coast.
29 July 1993, Thursday
Arrive about midday from New York. Sleep, rest, recharge batteries for last two legs home.
This mornig when I came on watch at 0400 I took a fix and found us 40 miles off shore. The boys had a rough ride below decks and are now a little green. Eric is an intrepid sailor and is disappointed that we must douse the sails in order to get into Cape May anytime today.
Arriving in Cape May about 1500 we get showers and a restaurant meal. It is now hot, humid and windless.
30 July 1993, Friday
Cape May to Chesapeake City, 61 miles. From the entrance of the Cape May canal sail 277o magnetic to R12 then go to 336o.
Departure at 0800 will get us up to the narrow part of the Bay when the flood tide will begin to turn in our favor and carry us up to Reedy Point. If our timing is right then we will also catch the tidal flow as it slackens and turns west in the C&D Canal.
We are bucking the tide a little this morning so that we can catch it for a longer part of the trip later in the day. We have been trying to sail all morning. When we tow the boys in the water behind the boat we essentially stop. The GPS shows us going backwards. A foul odor was plaguing us all morning. I discovered it was the holding tank overflowing into the cabin. Holding our breaths and noses, Christopher and I pumped out several buckets full. I then spent a couple of hours dismantling the v-berth so that I could clean up the mess. All the while Eric was trying to keep the boat on an even keel to prevent spilling more.
No sooner was the holding tank cleaned up than the wind piped up out of the north; the wrong direction. It was so strong that we put in both reefs and furled most of the Genoa. The waves were so high and steep that the breaking spray would come back over the cabin into the cockpit. The boys thought it all a wonderful experience.
Just as it got dark and the river narrowed too much to sail we turned on the engine. No water in the exhaust! We had to shut down the engine and hug the edge of the channel as there was a freighter coming up the channel. It turned out that the raw water intake had become clogged with sea weed, problem solved. We followed the buoy lights up to the entrance to the C&D canal. With a freighter close on our heels we almost ran onto a submerged wreck. The lights for the canal were very confusing; we got on course not too much before running into the stone jetty at the canal entrance. The next bit of excitement was the AMTRAk railroad bridge across the canal. Would it go up before morning? We didn't have long to wait. On arrival in Chesapeake city Eric and I had beer and cheese under the stars. What a day.
31 July 1993, Saturday
Chesapeake City to Great Oak, 28 miles.
Departure in the morning for the final leg home. Little to no wind again today, but we did sail all but the last three miles. The bay was so flat and the wind so gentle that we cooked hotdogs on the grill on the stern pulpit while unerway.
1 August 1993, Sunday
Wash, pack, swab the decks and depart for home.

Home